What impact will Russian-Ukrainian news have on oil stocks?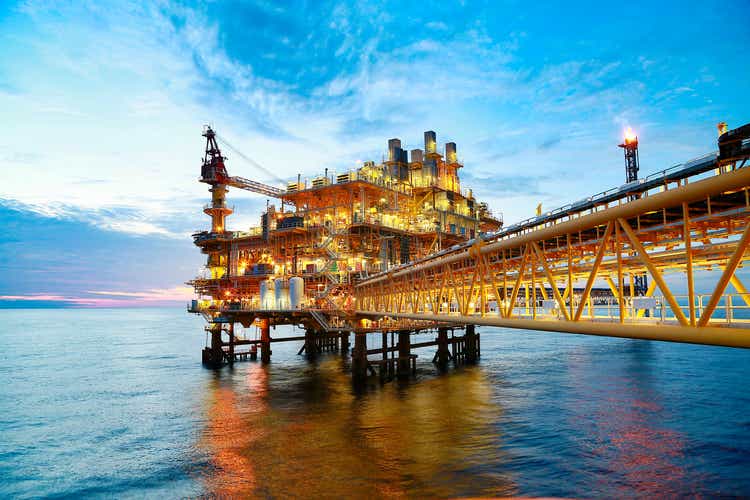 Strategic interests trump climate interests, where the idea that fossil fuels should be phased out has been overturned. Defense and domestic oil are now all but ESG-friendly thanks to voters of Western politicians rallying around the humanitarian issues presented by the resumption of open warfare in Europe. The oil lobbies are surely working to capitalize on this moment when governments can approve the expansion of the oil industry without sacrificing political capital. With clearer sanctions as Biden bans imports of Russian oil into the United States, despite being a far less dependent nation, further supply disruptions are coming. We expect higher prices in the short to medium term, and higher volumes and longer term reinvestment opportunities, as energy is finally on its way to becoming a higher multiple industry. Although the trends are still speculative, we discuss some ideas with downside protection that offer investors exposure to what could be a fossil fuel renaissance.
What impact did the Russian invasion have on oil stocks?
Well, the consequences of the invasion were already being felt on the rouble, as sanctions on Russia drove down demand for the currency, and speculators began to prepare for tough new sanctions on Russian commodities. Now these harsh sanctions have come from the United States with every reason to question the value of the ruble materializing.
Additionally, it pushed the price of oil to over $130 a barrel, and with it oil inventories also skyrocketed. Exxon Inc (NYSE:XOM) is up massively, even ahead of a pre-COVID rally with prices soaring. The same goes for Chevron (NYSE:CVX), which will also see benefits in its LNG logistics, as broken bridges in the oil logistics network with sanctions require longer routes.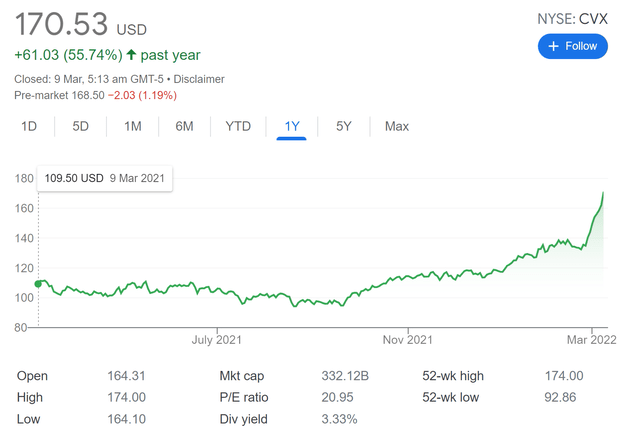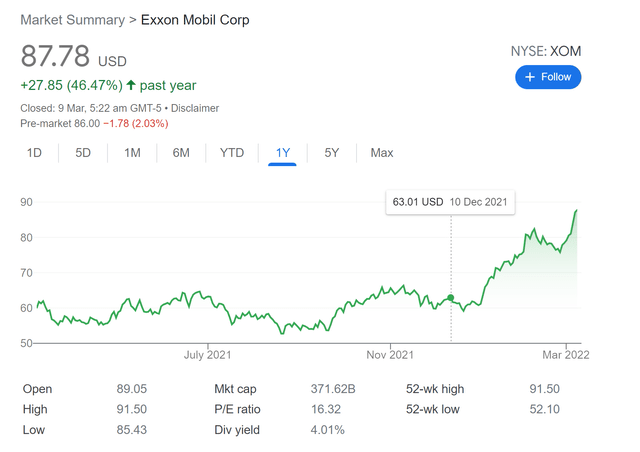 What should investors be aware of?
American geography is very attractive right now. With Biden desperately trying not to support the US oil industry, turning to Venezuela and even Iran before the last resort of allowing more fracking and pipelines in the US, the current environment is the perfect time for the oil lobbies to catch up and create more opportunities for local players. Indeed, some smaller companies like Profire Energy (NASDAQ:PFIE), which provides upstream oil and gas burner management systems, could see a major headwind if Texas oil, for example, experiences a bump. Prices are still not above pre-invasion levels and could be an interesting area as the severity of Russian sanctions increases.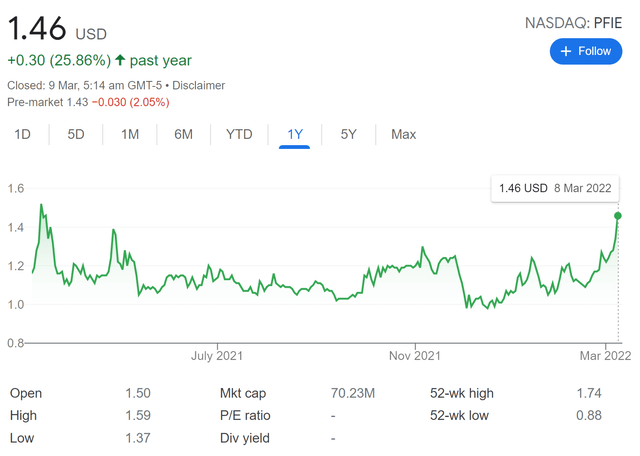 But Norway's continental shelf is also attractive, where Norway, although already pumping a lot of oil, could be asked to do more in order to relieve Russia's 27% oil import dependency. Lundin Energy (OTCPK:LNDNF) is an attractive choice for gaining high operating leverage exposure to one of the cheapest reserves in the world outside of Saudi Arabia.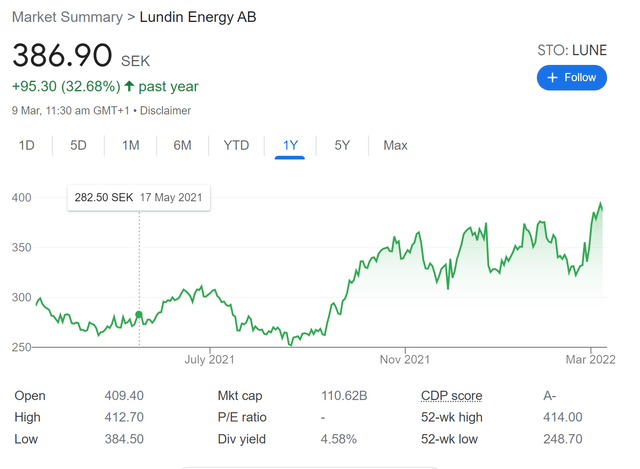 If sanctions continue to escalate against Russia, with countries in Europe perhaps following suit with direct sanctions against Russian imports, this would further catalyze a stock like Lundin, which is still trading at rather calm levels despite the frenzy of the oil market. However, all it takes is oil prices to be high for Lundin to reap major benefits, and the reality is that Europe simply won't join in on the bans because it would bankrupt most bill-paying families. gas or electricity bills based on CCGT.
Refiners are also interesting right now. Diesel from Russia is in low demand, which means product gaps for non-Russian producers have increased. Increased crack spreads mean increased profits. However, crude prices are catching up with commodity prices, so upstream oil is more influenced by oil prices and likely allows for more strategic positioning on a political basis as well. With refineries unwilling to buy Russian oil even at deep discounts due to the risk of sanctions against them, crack spreads could see some compression soon.
Conclusion
Russia being the target of humanitarian criticism in the age of social media has been a boon to Ukraine's ragtag defense efforts as well as a blow to popular support for war in Russia. Moreover, he pushed voters to demand sanctions against Russia, even at the expense of their wallets. All of this has led to a major disruption of supply in oil markets and a rise in prices. Moreover, it has put a damper on renewable energy projects, which are largely dependent on Chinese manufacturing and, in the case of hydrogen, Russia's huge reserves of PGMs. He also backed calls to revive local oil industries.
However, Russia still holds a lot of cards. Iran will not talk directly to the United States and needs Russia and its allies to mediate. This could be a problem to invite an Iranian solution. Moreover, it is predominantly commodity-endowed and will likely still find ways to get its commodities to international markets, with massive demand still coming from the developed world, which has been much better courted by China and others. Russian allies. The real effect of these sanctions on the Russian treasury remains quite questionable, and therefore the rise in the price of oil could be a little more temporary. If refineries elsewhere can source Russian oil, probably at very favorable prices, without sanction, then it will make it to international markets in one form or another.
We believe the ultimate beneficiaries are US oil, which has been scaled back in recent years as the renewable energy lobby has increased its influence. They will have more opportunities for reinvestment. Weak multiple stocks like Profire could see benefits with local activity picking up. Above all, LNG shipping companies will benefit as routes become more complicated with economic disintegration. This was our thesis on tankers in general with the IMO 2020 regulations complicating routes and reducing vessel availability with the support of charter rates. Indeed, bulk shipping should also continue to receive support at its charter rates, and logistics in general remains a sector which, despite a ramp-up, could see likely catalysts to push this race further. .