US vs. OPEC +, why oil prices will likely stay higher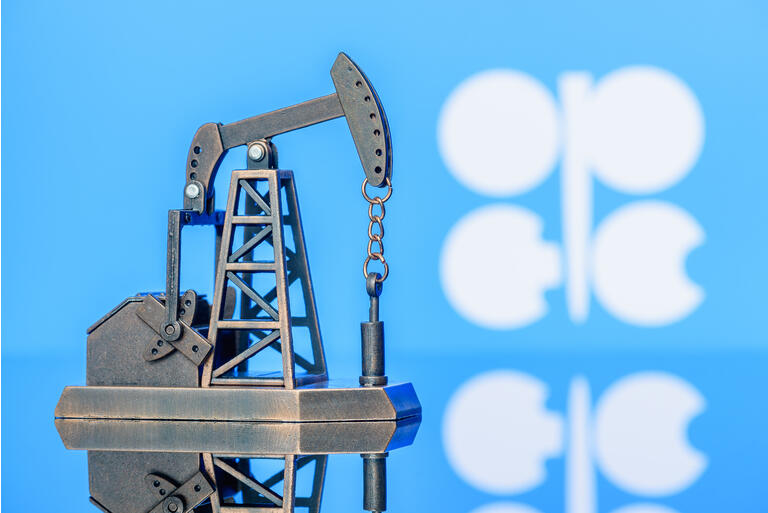 Since Joe Biden became President of the United States about 11 months ago, the country has experienced one of its strongest economic recoveries in its history. The S&P 500 rose more than 25%. However, the price of such rapid economic gain is hidden in the economic recovery. Just-in-time inventory management, coupled with expectations of a slower recovery, has led to good shortages. Frames poor planning will likely take the next 1 to 2 years to recover. Increased travel and good fuel consumption have also pushed up fuel prices.
Normally, the economic recovery is accompanied by inflation, but due to these factors, inflation due to the rapid recovery from COVID-19 has been particularly strong. It is one of the main concerns of Americans. The government, in an effort to maintain political goodwill and draw attention to other achievements, decided to focus on one of the most important components of inflation, oil prices, thus defying the tight supply of OPEC +.
Supply and demand of crude oil
The price of crude oil is based on relatively inelastic fluctuations in the supply of and demand for crude oil.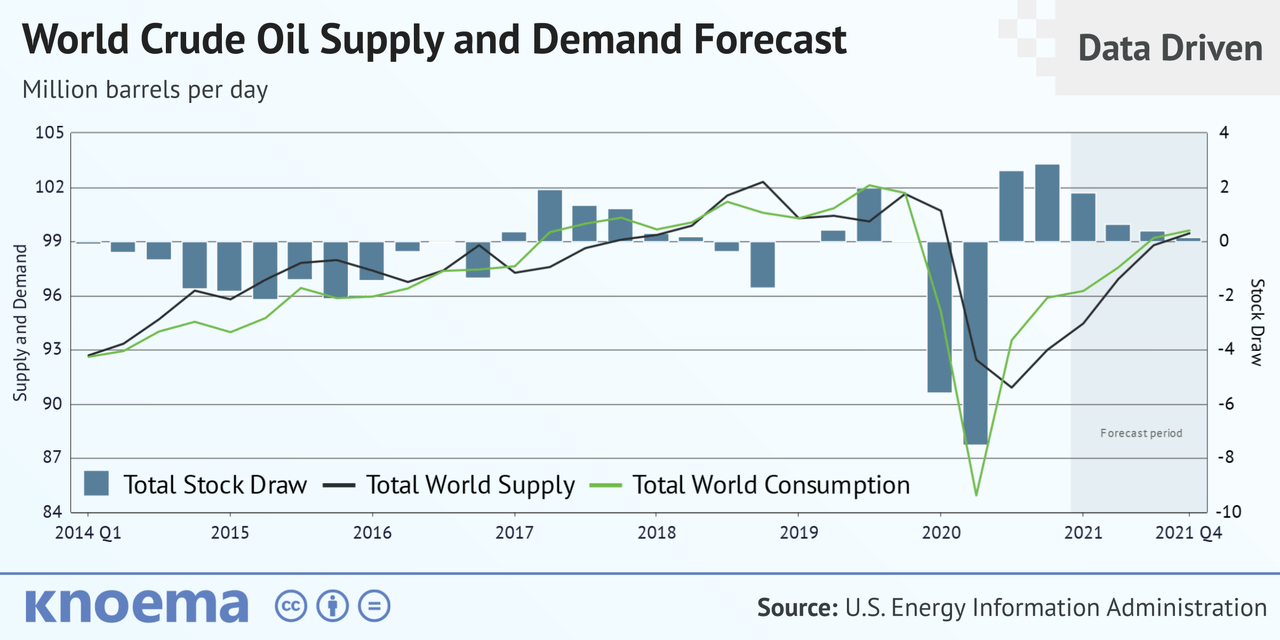 Oil supply and demand – Knoema
At the onset of the pandemic, demand for crude fell dramatically. The nature of futures and storage relative to global demand caused prices to briefly turn negative (and highlighted how volatile crude prices are in the face of small changes in demand). Since this initial decline, the economic recovery has caused demand to skyrocket, causing temporary instability in the market where demand has exceeded supply, reducing storage reserves.
Going forward, we expect the markets to tend towards equilibrium with gradual returns to increased production. However, we also expect capital spending to remain low, especially with the move towards less pollution. Another note here is that during the recovery from the SARS pandemic, crude consumption increased. The reason was that people moved to independent modes of transportation rather than commuting. The same could happen here.
OPEC + supply countries vs. import countries
The current battle is OPEC + and a desire to keep prices higher with a slow rate of recovery and importing countries looking to push prices down.
In our opinion, the importing countries have taken the plunge with a release of 10 million barrels. Short-term price pressure in the markets will discourage capital spending. Alternatively, if prices had been allowed to stay higher for a bit longer, companies would likely have started to consider increasing capital spending, increasing production, and making it more difficult to phase out production on the market. Marlet.
At the same time, OPEC + has remained cautious about its production increases, and this announcement, combined with new variants, means it is unlikely to accelerate its schedule. In fact, we wouldn't be surprised to see them delay their schedule in an attempt to show importing countries and their release of supplies that they don't have the market power they think they have.
Either way, given limited rough stocks (the release is around 10% of inventory alone) and vacation travel, our prediction here is that OPEC + managers will outperform for this battle.
Our forecast
Our forecast relates to where we think the steady state is between producers focused on protecting their balance sheet and shareholders' ability to generate returns, rather than on the basis of a steady state. with importing countries.
Concretely, many companies, after the impacts of COVID-19 on the markets, seek to protect their balance sheets before turning to increased rewards for the shareholders. Many anticipate some recovery in rewards for shareholders before capital spending. In our opinion, $ 70 to $ 80 is a threshold price in that regard for the markets and the decisions they decide to make.
Below $ 70 / share, most companies focus on maintaining and supporting their dividend and balance sheet. Above $ 80 / share it starts to become very profitable to start new exploration spending. As a result, we expect prices to stay within this range with occasional moves up or down depending on decisions and news. We expect moves outside of this range to be short term.
More so, we expect the stock releases and new variants to help support the markets, with OPEC + likely turning to production increase targets, knowing that new production is coming on anyway. the market. This means that when demand increases, they will need more time to catch up and make decisions to increase production.
Investment recommendations
For those looking to invest, we see a lot of value in the energy sector. The continued volatility and the market's rapid reaction to panic (as seen with the 'naked' variant where the vaccination companies have already announced that their companies should be able to handle it) means that the markets are still scared and fearful. Continued volatility will help widen the set of opportunities from where they are now.
One of our favorite areas of opportunity is midstream. Intermediate companies act as toll roads by collecting revenues from the movement of crude oil to a variety of destinations where it is consumed. This means that as long as production is taking place, which is true at> $ 40 / bbl, companies have a strong and reliable expense-based cash flow. They are based on volume rather than the price of crude.
Energy Transfer (NYSE: ET) is a big company (read more about it here). In 'upstream' companies that continue to invest heavily in growth, such as ExxonMobil (NYSE: XOM) with low cost asset bases in Guyana and the Permian Basin, also have the capacity to generate huge cash flow that they can then directly into a variety of shareholder rewards, such as redemptions and dividends. Learn more about Exxon here.
Thesis risk
One of the main risks to our thesis of rising oil prices is the political strength of net importing countries. While we expect the release of crude to be managed, the release of inventory could cause prices to drop temporarily. Continued pressure from importing countries seeking to contain inflation could cause OPEC + to increase supply faster than expected, keeping prices lower for longer.
The second risk is the delay in economic recovery caused by the new COVID-19 variants such as "Naked". Antivax feeling, despite a lack of scientific basis, has become considerably more widespread. Most immunology experts believe that low vaccine uptake increases the likelihood of vaccine-resistant variants and booster needs that will take time to roll out. Major variations could lead to more travel avoidances and blockages, as already seen with "Nu", which could temporarily have a negative impact on crude prices.
On the positive side, we believe these risks have positive effects. Since the crash of mid-2014, the price recovery has triggered significant investment spending and production increases in low-cost, quick-return asset bases (i.e. the basin Permian). The volatility of the current recovery will encourage companies to avoid capital spending and instead focus on using cash to improve the balance sheet and reward shareholders.
Conclusion
OPEC + controls a substantial percentage of world oil exports and, therefore, has substantial pricing power. The organization has reacted strongly, but with delay, to support prices in the context of COVID-19. Since then, production cuts have been a big part of the price recovery, and of course OPEC + as an organization is benefiting significantly from the recovery that has occurred.
However, the release of emergency stocks by importers is also an unprecedented event. We anticipate that this, combined with new variants, will put price pressure on the short term. There are still plenty of opportunities available in the markets, and we expect long-term prices to stay in the $ 70- $ 80 per barrel range, which will provide substantial rewards for shareholders. These opportunities deserve special attention in the midst of volatility.