Malaysia's palm oil stocks at the end of February are at a 10-month low as exports rise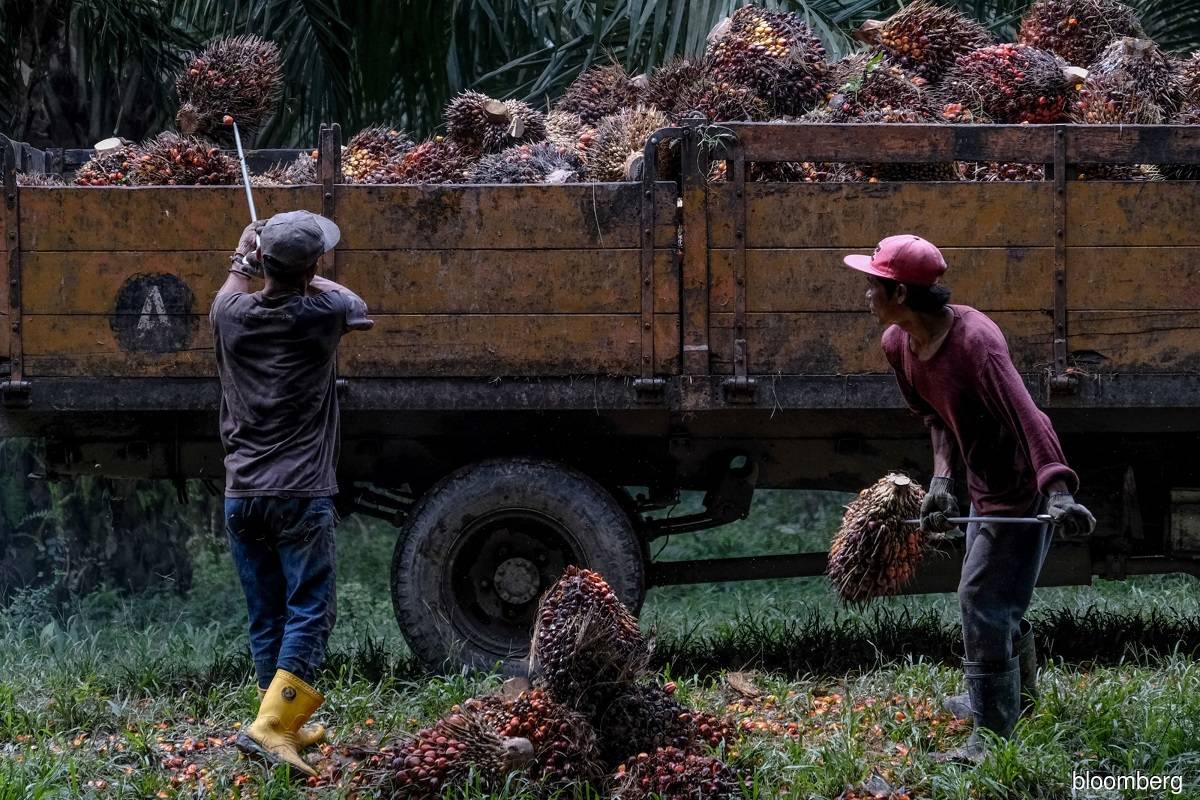 KUALA LUMPUR (March 4): Malaysia's palm oil stock at the end of February likely plunged to a 10-month low as production fell for a fourth straight month while exports surged, a Reuters poll showed on Friday (March 4).
Stocks are expected to fall 11.4% from the previous month to 1.38 million tonnes, the lowest since March 2021, according to the median estimate of nine planters, traders and analysts polled by Reuters.
This compares to 1.3 million tonnes recorded a year ago.
Production in the world's second largest producer is expected to fall 5% to 1.19 million tonnes, also to its lowest level in 10 months.
Exports are expected to rise by 8% to 1.25 million tonnes as buyers turn to Malaysia after the main Indonesian producer imposed on exporters to sell some of their produce domestically.
"There are growing concerns about adequate palm supply levels for post-Ramadan replenishment, with more subscriptions taking place in the cheaper months ahead – primarily during the July-September period," said Marcello Cultrera, institutional sales manager and broker at Phillip Futures in Kuala Lumpur.
Benchmark crude palm oil futures hit record highs of over RM7,000 a tonne as Russia's invasion of Ukraine disrupts the key region's sunflower oil supply from the Black Sea, further compressing an already tight global market.
Analysts said prices could stay high for longer than expected.
"Current prices appear sustainable given the current global tension over edible oils, with no short-term supply of Black Sea sunflower oil and limited supply of palm products in Southeast Asia," Cultrera said. .
However, the biggest importers, China and India, are buying on a day-to-day basis, as palm oil has become the most expensive of the four main edible oils.
India is expected to import 450,000-500,000 tonnes of palm oil per month from the usual 600,000-700,000 tonnes due to high prices, the chairman of India's Vegetable Oil Producers Association said on Thursday, Sudhakar Desai, during a UOB Kay Hian conference.
The Malaysian Palm Oil Board will release official data on March 10.
Breakdown of February estimates (in tonnes):
| | | |
| --- | --- | --- |
| | Vary | Median |
| Production | 1,152,000-1,303,580 | 1,190,000 |
| Exports | 1,000,000-1,400,000 | 1,250,614 |
| Imports | 0-150,000 | 120,000 |
| Closing inventory | 1,248,682-1,537,400 | 1,375,380 |
* Official stocks of 1,552,414 tonnes in January, plus production and imports estimated above, give a total supply in February of 2,862,414 tonnes. Based on the median of exports and estimated ending stocks, Malaysia's domestic consumption in February is estimated at 236,420 tonnes.
Read also:
Record cooking oils are the latest threat to soaring food inflation
Palm oil tumbles on demand destruction and food inflation concerns